Recent advances in treating pain with Dr. Pearl:
Patient Video Testimonials
Written testimonials from our patients…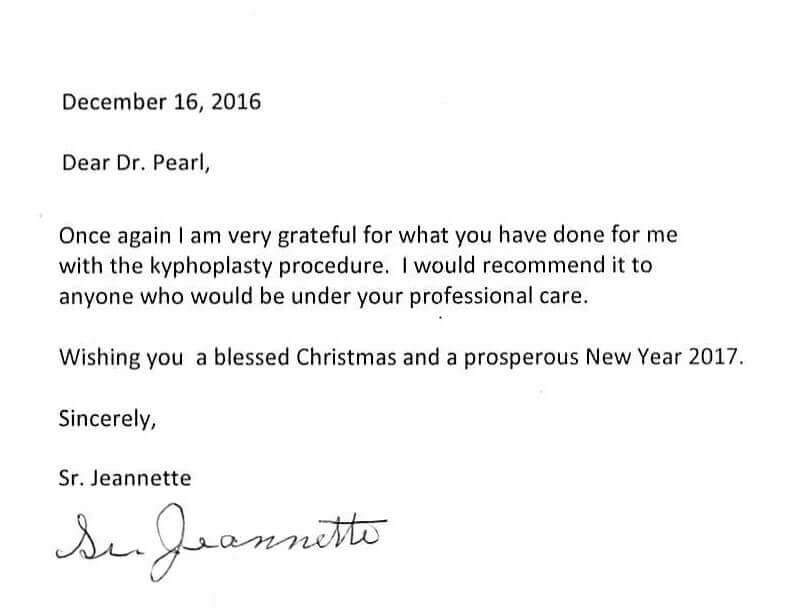 MY PERSONAL TESTIMONY WITH CHRONIC PAIN AND DR. JANET PEARL. MD.
Several years ago, after six years of an arthritic condition that left me with chronic pain, no relief and very depressed, I practically crawled into Dr. Janet Pearl's office. I told Dr. Pearl that she was my last best shot. Two months later I walked out pain free and standing tall. From time to time, Dr. Pearl has tweaked this now aging body. My entire family live in Australia and I hadn't seen them in over 14 years. My oldest brother was dying and I thought I would never see them again. I had knee replacement surgery one year ago. No way could I travel that far. Six months after the surgery, I was doing well and made a surprise booking to visit my family one last time for April 2014. Everyone thrilled and happy and looking forward to my visit.
A little over a week before I was to leave, my aches returned to the point where I thought I would have to cancel this long awaited trip…l2,000 miles each way. I called Dr. Pearl and she worked her magic the very next day. "We will get you on that plane Val". I had a wonderfiil visit and was surrounded by so much love. I saw my ill brother and he was so happy to see me. Never thought this would happen. I brought back so much love to last the rest of my life.Of course this body did not get off scot free and Dr. Pearl again worked her magic. An e-mail from my younger brother who was also my host, said it all. "Please convey to Dr. Pearl our appreciation for getting you on the plane at Boston and allowing us to share so much Fun and good times with you when you were here. Love from all in 0Z."
Thank you Dr Pearl.
"When I first had an appointment with Dr. Pearl I thought, "What can another doctor do for my chronic pain that the others have failed to do?" After examining my back and hearing my story, Dr. Pearl who looks at the whole person, said that there are many things that can be done. Dr. Pearl also treats you as a person rather than a patient with a complaint. She restored confidence in me so that I knew that if one thing didn't work there would be many other procedures and modalities to try. Dr. Pearl addressed my issues by asking me what I wanted out of this treatment. I wanted to be able to function as normal as possible and to be able to do the things I enjoy most.
Having had many different procedures, the ones that work the best for me are the Radio Frequency Ablation in the facet joints in my lower spine and the Botox injections into the muscles that spasms in my upper back. Dr. Pearl's technique is excellent. She is very gentle and also reassuring, making sure that the patient's comfort is always attended to. I am glad to have found Dr. Pearl as she is a caring individual with compassion for her patients."
I found Dr. Pearl and Complete Spine and Pain Care in September 2010 and went over my pain issues including Fibromyalgia from a car accident in 2005. She mentioned a new Fibromyalgia treatment involving magnesium called "Meyers Cocktail Therapy" that I may want to consider down the road. At the time I had been reading many articles about magnesium helping fibromyalgia patients so, I think to Dr. Pearl's surprise, I jumped right on it. I began the treatment during October. I went to my appointments faithfully each week for 8 weeks with my last treatment being about a week before the New Year while I continued to struggle at home with my normal pain levels, tenderness and discomfort. About the7th week of treatment, I noticed that my son touching my legs wasn't causing me the normal unbearable pain I was used to. In fact, it wasn't causing me any pain at all. It was a shocking but exciting moment! Over the next couple of days I realized many different areas in my body where I wasn't experiencing pain where in normal circumstances the pain would be excruciating. I then began to feel relieved and disburdened emotionally from having to manage living with constant pain. At this point I told myself " I better take advantage of being pain free while it lasts"! So at age 40, with only a couple weeks of being pain free, I began the "In It To Lose It" program at the YMCA and lost the highest percentage of weight and the title of "Biggest Loser" during one of their winter sessions. Normally, I am unable to move without pain medication in the winter, but this year after the Meyers Cocktail Therapy, I was able to win this program AND win it without pain medication. Somehow the Meyers Cocktail Therapy physically changed something in my body which freed me from the constant Fibromyalgia pain I have been experiencing since 2005. It was like the young "me" came back into existence again. I felt like I had undergone a renewal of youthfulness and was somewhat restored to my former state of good physical health prior to the fibromyalgia. I even imagined myself as a young girl, running through a field on a warm summer day. I was finally able to start to feel a sense of pleasure in day to day life. I took the chance on the "Meyers Cocktail Therapy" and it produced a profound effect in my day to day life. It brought me back into existence and a pretty high level functioning after many years of defeat. I still struggle with other areas of pain from my car accident but am at least now able to put the debilitating widespread Fibromyalgia pain to rest and begin to move forward in my life. –
Dear Doctor Pearl,
I became a patient of yours about a year ago. I had been a back pain patient of another Pain Doctor for over ten years during which my treatment consisted of epidurals to relieve chronic back pain. At my first meeting with your staff, I immediately became aware of the sensitivity and professionalism that each staff member demonstrated. Their depth of experience manifested itself in their background questions as well as their examination techniques. Upon completion of their examination, we met and you explained to me your perspective on back pain, the different treatments available and finally your recommendation. Treatment began shortly thereafter in the form of an epidural. I immediately became aware that you had a totally different operating technique for an epidural. Your technique is very caring, explanatory, and the procedure is complete before I actually realize I am receiving the medicine in my back. This same methodology has been repeatedly used to alleviate my back pain each and every time. The only word I can use to describe how I feel after your procedure is Nirvana. Within a few hours, I am totally free of pain. This goes on to last for a long period of time. My last procedure was six days ago and I have been without any back pain or even a symptom of pain since that time. I am able to function at 100% and the quality of my physical life improvement is total, i.e., 100%. Based on my last ten years' experience, your results are always phenomenal. You are able to pinpoint exactly where the medicine should be injected. You are precise and an expert at what you do. I feel very fortunate and indeed grateful to be your patient.
"Prior to meeting Dr. Pearl, I had three years of being in almost constant pain. I couldn't sit or stand for more than twenty minutes. That was difficult for me, having been an active golfer, and a very active woman. After meeting Dr. Pearl, and having several procedures done, I've seen periods where I'm pain free. I went from being part time to a full time job again. Instead of having 20 minutes tolerance, I have a 12-hour tolerance, which makes for long days. Dr. Pearl has given more than hope, she's given me my life back. I don't have to think about when I'm older, am I going to be in a wheelchair, because I know that as long as she has a clinic, I can keep coming. She'll keep me moving. She's given me back my life."
Hi Dr Pearl,I wanted to let you know how great my back feels after the last treatment………I have had NO pain since then and am careful not to do anything to strain my lo back…….I have recommended this procedure and you to others who have tried everything and still are in pain. I will see you again if needed, nice to know there is something that can relieve that pain. Thank you,
From his Primary Care Physician…
I also wanted to thank you for suggesting I see Dr. Pearl, the pain specialist. She was really Terrific. Very professional, took the time to discuss all my ailments with me and was truly interested in my well being. I wish to thank you again and suggest you recommend her to other patients who need her kind of practice.
From a Referring Physician…
"I became aware of Dr. Pearl's expertise over ten years ago, when she was the Co-Director of the Pain Management Center at St. Elizabeth's Hospital and several of my patients, who were also under the care of neurologists at that facility, happened also to be under her care. I have been consistently impressed by and pleased with Dr. Pearl's thoughtful, thorough, and compassionate assessment of the many patients we have shared over the years who have suffered from one or another acute or chronic pain syndrome. I can also speak to her exceptional technical expertise. It is with considerable confidence that I have referred and continue to refer patients to her. We are very fortunate to have her practicing in the Framingham area now."
Dear Dr. Pearl When I first met you last August, I said that "you were my last best shot". I was very depressed, isolated, in pain and frankly, could not imagine spending the rest of my life that way.Several doctors had more or less patted me on the head telling me that "we*' all have aches and pains as we get older. With nothing to lose, I self referred to your "Complete Spine and Pain Care".The first thing you did was order a CAT scan. Result; spinal stenosis and osteoarthritis of L 2, 3 and 4.After several treatments including RF Ablations and an Epidural; on Tuesday, February 8th, I announced for the first time, that I was pain free. I cannot thank you enough for your care and support. You were always available and explained each step along the way. Thank you for helping me return to me. Most Sincerely